Ch Software
Ch: The Simplest Possible Computing in C/C++
from SoftIntegration
"Unlocking a well hidden truth: Math can be a wonderfully creative and useful tool, not only in school but in your everyday life. Using Ch as a medium allows students to be the artists and algebra to be the paintbrush."

– Chris Schlesselman, Lead CTE Teacher, Technology & Engineering Design Academy, Hiram W Johnson High School
Ch is specially designed for absolute beginners to learn coding and math in C/C++ with the following salient features:
 A C/C++ interpreter with interactive capabilities
Easy to master by instructors and students
Ideal for classroom use, making beginners' learning experiences more enjoyable and fostering students' interest in STEM disciplines
Aids learning the most widely used programming language, C/C++, in both industry and colleges and prepares students to be career and college ready
Can be used for controlling robotics and learning programming and STEM subjects
 Supports easy graphical plotting and quick animation capabilities
Has a user-friendly development environment (ChIDE) with syntax highlighting and debugging capabilities
Supports most C++ features for object-based programming
Runs in Windows, Mac OS X,  Linux, and Raspberry Pi
SoftIntegration offers free Ch Professional Edition for Raspberry Pi  and  free  Student Edition.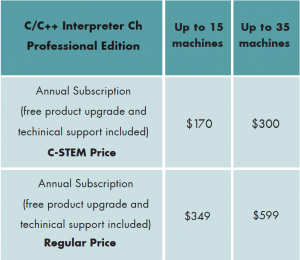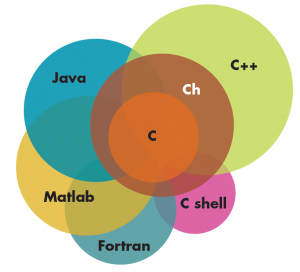 C-STEM schools will receive 50% discount for Ch Professional. All Ch Professional licenses for C-STEM Schools will expire on September 30th and all new licenses will begin on October 1st. Schools/districts will not be able to purchase a professional license for any amount of time less than 1 year. Schools/districts purchasing after August 1st will purchase the rest of the academic year at a pro-rated price plus the following academic year.   For example, if a school wants to purchase a license in December they will need to purchase one for 22 months, 10 months pro-rated from December to September and another 12 months for the following year.
System Requirements for Implementing the C-STEM Program
Windows XP or above (32 and 64 bits) with 500 MBytes disk space and 46 Mbyte RAM.
Mac OS X 10.6.8 x86 (32 and 64 bits) or above.
Raspberry Pi