C-STEM+
This project entitled C-STEM+ is funded with $1.5 million dollars for three years by the California Department of Education, through a partnership with Yolo County Office of Education (YCOE). The project provides intensive and follow-up training in mathematics, technology, and engineering.  The project represents both a countywide professional development model with all five Yolo County school districts participating and a regional model including rural, suburban, and urban high need school districts serving students in Region 3. Over sixty highly qualified teachers have been recruited to participate in the project.
C-STEM+ project is highlighted  in the CaMSP November 2014 Newsletter.
The Professional Development held at Yolo County Office of Education was covered in the news by Davis Enterprise.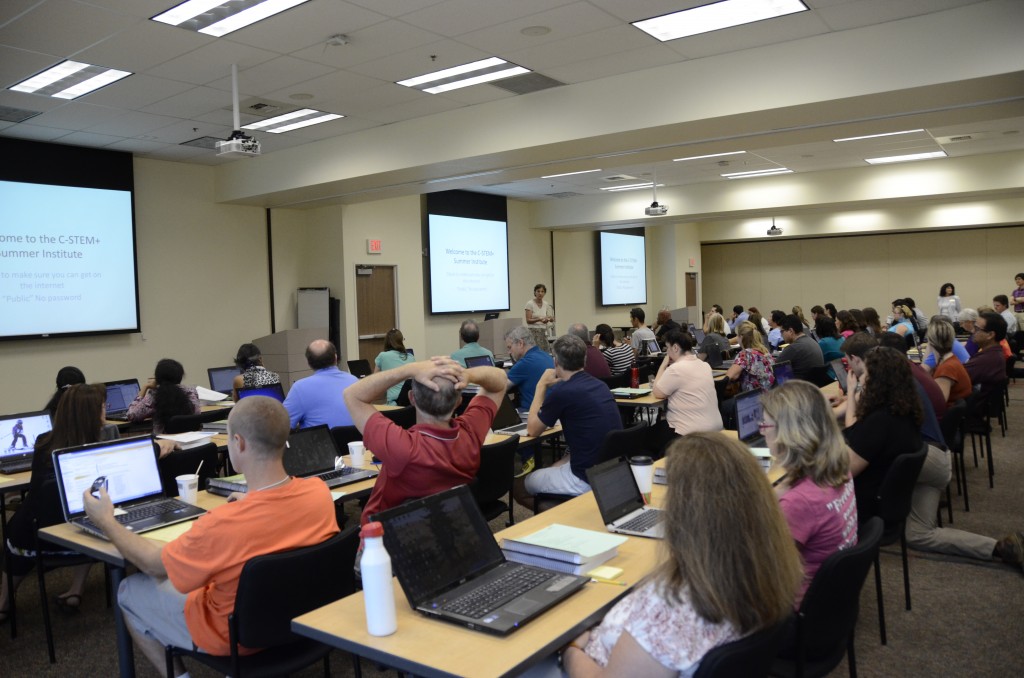 "I can incorporate math programs with science applications. Many times, students do not get the connection between math and science. These activities help."
C-STEM+ will work with two contiguous grade spans, middle grades (6-8) and high school (9-12) and will focus on computer programming and robotics combining mathematics, technology, and engineering. Through its work with educators, the Center integrates computer programming and robotics into teaching STEM subjects by creating project-based computing and robotics activities, integrated curriculum, and hands-on personalized and collaborative learning strategies aligned with Common Core State Standards in mathematics (CCSS-M) and Career Technical Education (CTE) standards. This inter-disciplinary content and pedagogy will help students make meaningful connections between regular STEM topics and their relevance to real-life applications and will help develop students' critical thinking and problem solving skills.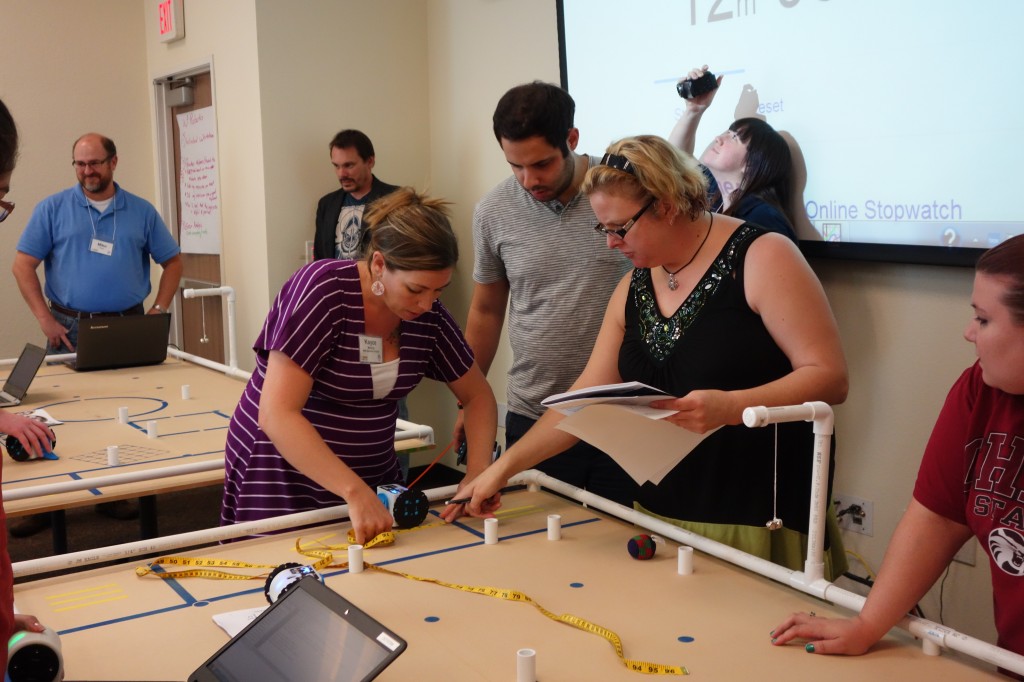 "I liked how we had time at the end to work on our own programs and I also liked working with curriculum groups and figuring out how we could incorporate the computer programming in the classroom. Very helpful!"
C-STEM+ will provide a new program of study with a sequence of courses that integrates mathematics with technology and engineering through computer programming and robotics. All courses are aligned with the Common Core State Standards in Mathematics, new Career Technical Education Model Curriculum Standards from the Information Communications Technologies industry pathway, and utilize a hands-on project based learning model.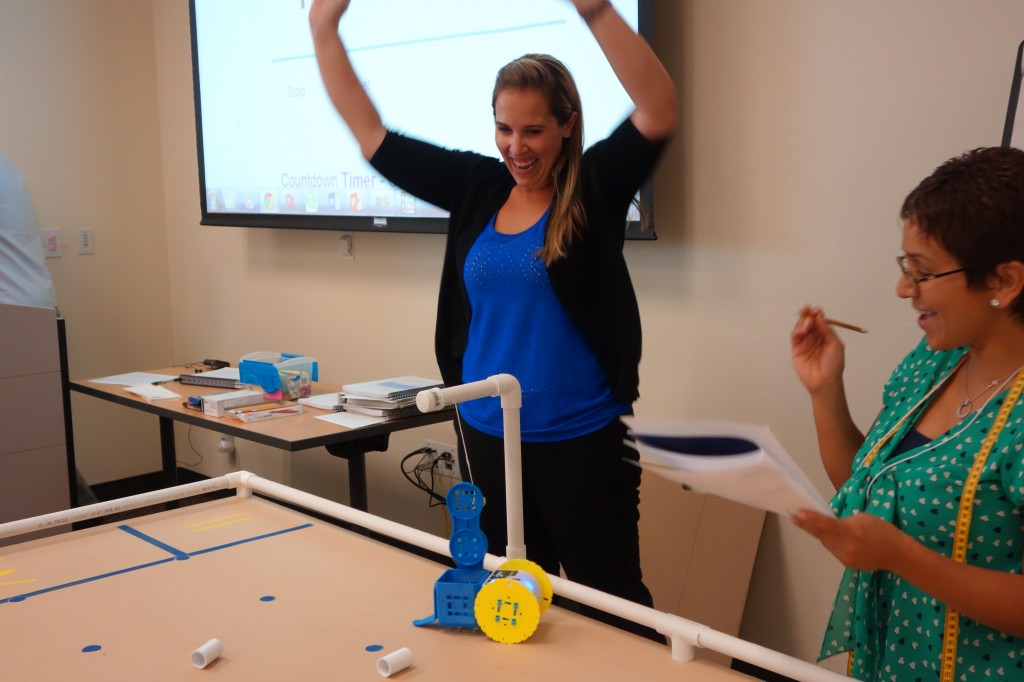 "Oh my gosh! I barely can contain myself….soooo fun!!! So challenging and so rewarding at the same time!!!"
"I must say that this was probably the best-run PD I have ever been to. Never once was I bored. I was productively challenged."
Teachers in C-STEM+ will participate each year in an intensive 60 hours (6 hours/day for 10 days) Summer Computing and Math Institute (SCMI) focused on integrating computer programming and robotics into inter-disciplinary mathematics instruction. Faculty from the UC Davis C-STEM Center, College of Engineering, and Mathematics Department will conduct the SCMI. All participating teachers will receive 24 hours of follow-up professional development during the regular school year in afterschool and Saturday workshops.  Teachers and their students will participate in the annual C-STEM Day with RoboPlay Competition and Math Programming Competition.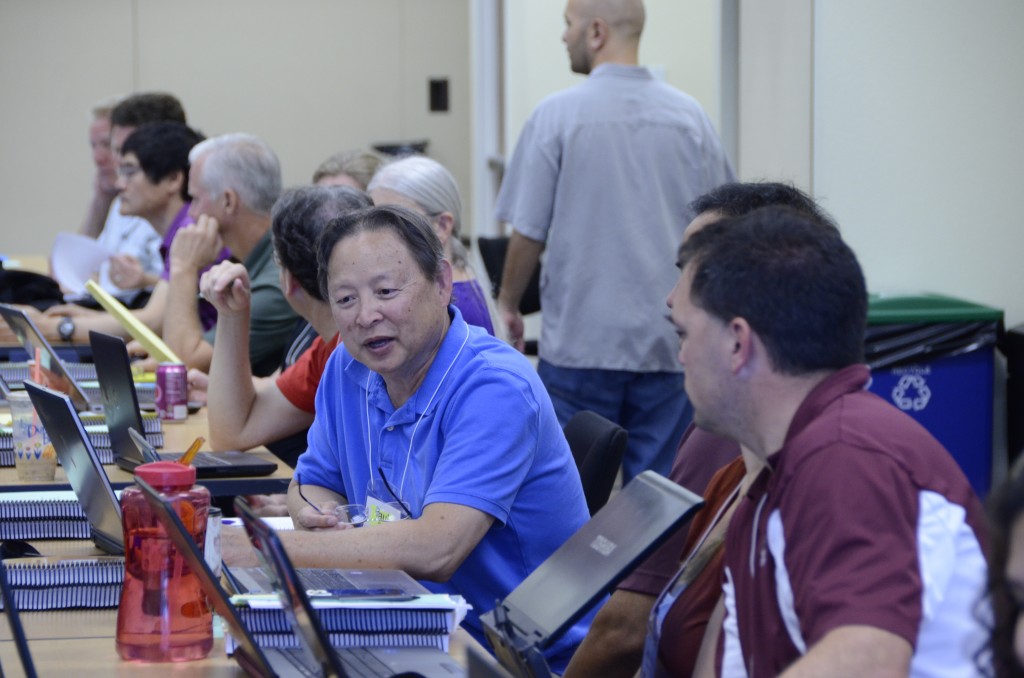 "Working in groups with teachers who are willing to share outstanding best practices resulted in the best in-service [training] I have attended in the 27 years I have been teaching."
Districts Participating in this Project:
Sacramento City USD
Woodland Joint USD
Winters Joint USD
Western Placer USD
Davis Joint USD
Washington USD
Elk Grove USD
Rocklin USD
Roseville City SD
Nevada Joint Union High SD
Pleasant Ridge Union SD
If you are a math or CTE teacher in one of these school districts and are interested in participating in the project, please Contact Us and Project Director Deborah Bruns at Deborah.Bruns(@)ycoe.org.
Information for Participants:
When & Where:
Monday, July 21 – Friday, August 1 (Monday – Friday, 9am – 4 pm)
Yolo County Office of Education, 1280 Santa Anita Court, Suite 120 (the conference center), Woodland, CA 95776
First day: Registration begins at 8:00,  Session will begin promptly at 9:00 am.  (Come early if you haven't / had trouble downloading the software.)
Parking is free and plentiful
Directions at http://www.ycoe.org/drivingdirections
Lunch:
Unfortunately, we will NOT be providing lunch (as grant won't cover this expense).
Bring a lunch (we have one microwave available but there are 70 participants so keep that in mind).
There are a few nearby places to get lunch.
Laptops and Software:
We request that you bring a Windows laptop (XP or later) for the training .
A Link to download software has been emailed to participants so that before you get to the training you are ready to start working immediately (if you are using a personal computer)
If you are unable to download these successfully, please email Ryan Mangan, C-STEM Education Specialist at ramangan(@)ucdavis.edu for assistance or come at 8am on Monday, July 21 so that we may help you install the software.

CEU Credits:
You can purchase 6 units of CEU credit for $175 through UCD Extension. The course number is 141EDC720. We will have information on how to do this at the institute but some of you have asked for the course number in advance.