C-STEM Day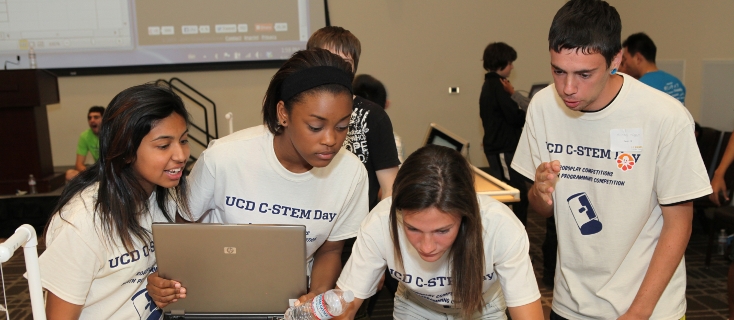 C-STEM Day is an annual culminating event for the C-STEM program. It is organized to build public awareness and advocate for hands-on integrated Computing and STEM education. The C-STEM Center and our partners organize curriculum-based RoboPlay Competitions in various regions on C-STEM Day on a Saturday around 20th of May each year to further engage students in project-based team activities and to showcase their accomplishments and creativity in not only math and engineering, but also in writing, art, music and film production. Various C-STEM awards and scholarships are presented at the awards ceremonies to outstanding students to recognize their achievement and inspire them to pursue computing and STEM related careers and post-secondary study.
The level playing field RoboPlay Competition promotes Social and Emotional Learning (SEL). SEL is the process through which children acquire and effectively apply the knowledge, attitudes, and skills necessary to understand and manage emotions, set and achieve positive goals, feel and show empathy for others, establish and maintain positive relationships, and make responsible decisions.
(click the picture above to show the video)
The annual C-STEM Day includes the following major activities for students.
RoboPlay Challenge Competition
The RoboPlay Challenge Competition is a theme-based level playing field robotics competition for K-14 students. It is designed for students to showcase their real-world problem solving skills in a competitive environment. This competition simulates an unexpected problem occurring at a remote location such as a space station or planetary habitat, where a robotic solution must be quickly developed and deployed, using only existing resources. The competition challenges students to creatively use modular robots and accessories to complete various tasks. The competition arena and specific challenge will be unknown to participants until the day of the competition. Using their math, programming, and problem solving skills, students try to most efficiently obtain the highest score for each task on their own.
Curriculum Based Competition
Challenge revealed day of competition
3 – 5 Elementary School, Middle School,  High School, and Community College students per team
Award Categories
1st, 2nd, and 3rd place winners for each division (regional and state)
Spirit Award
Teamwork Award
Perseverance Award
RoboPlay Video Competition
The RoboPlay Video Competition is a robotics-centric video competition for K-14 students. It designed for  students to learn robotics while having fun and exploring their creativity in writing, storytelling, art, music, choreography, design, video editing and film production, and at the same time seamlessly learning C-STEM subjects. The necessary robot coordination to match the movement of multiple modules to music requires not only teamwork in designing a well-organized visual performance, but also the math and programming skills to produce the desired actions. The competitions enable students with different interests to explore the basic concepts of C-STEM in conjunction with their artistic and music talents. A student of average skill should be able to reproduce a video with the documentation submitted for the video.
Award Categories
Best Storyline
Best Choreography
Most Interesting Task
Best Custom Designed Part
Best Overall Video
Best Film Promoting Computational Thinking
C-STEM Student Awards and Scholarships
The C-STEM Day Awards Ceremony will present the following awards to students who have participated in the C-STEM program over the course of the academic year:
A Success  Story
A team from Roosevelt Middle School in Oakland Unified School District, California won  at 2015 RoboPlay Challenge Competition. The school is fully embracing the C-STEM program. Read more …
If you wish to Volunteer during C-STEM Day, please visit our Volunteering Page to learn more and sign-up here to Volunteer for C-STEM Day 2017.