About Us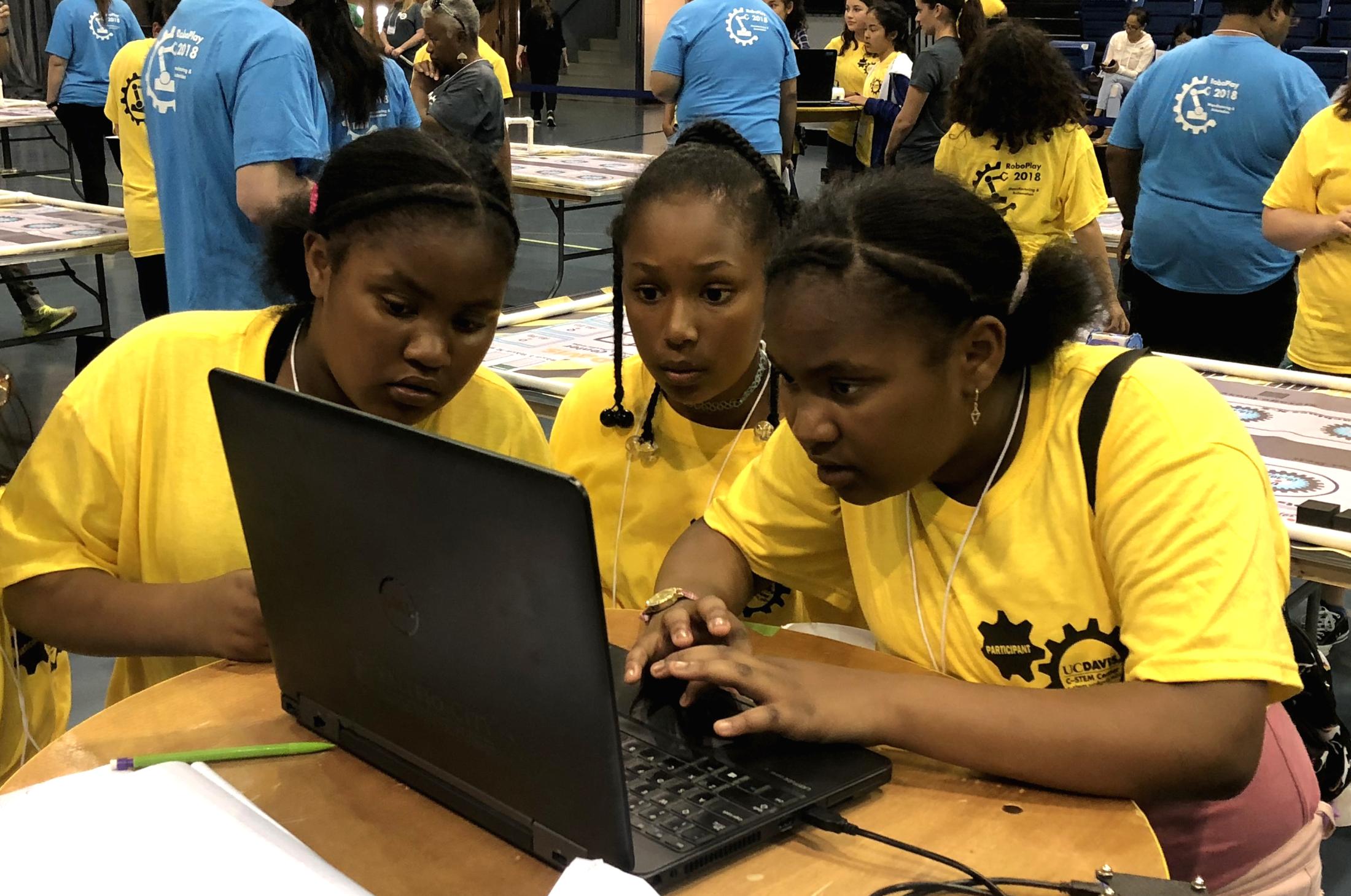 Girls participating at RoboPlay Competition.  
Funding Agency: National Science Foundation
Amount: $2.4M
Start and End Date: 8/1/2021-7/30/2024
---
Principal Investigator: Harry H. Cheng
Co-Principal Investigator: Faheemah N. Mustafaa
Ujima GIRL Program Manager: Marcella Grant
---
Project Summary:
The $2.4M Ujima (Collective Work and Responsibility) Girls in a Robotics Leadership (GIRL) Project, funded by the NSF, aims to address the significant challenges of inclusion and equity for Black/African American middle school and high school girls in STEM education. More than 2,000 Black girls will be nurtured through this project to lead in science, technology, engineering, and mathematics (STEM) in their schools, communities, and careers. The Ujima GIRL project uses hands-on coding and robotics as an engaging and fun vehicle for increasing positive attitudes toward STEM and developing leadership skills for Black girls in middle school and high school through peer mentoring with Black college female students. Each cohort of participants starts in a one-week summer camp, divided into two levels: Ujima GIRL Camp for middle school students and Ujima GIRL+ Camp for high school students. The camps emphasize peer mentoring by providing opportunities for Black female high school (Assistant Coaches) and  Black college students (Coaches) to serve as counselors and mentors to camp participants. Additionally, engineers, scientists, and executives from STEM industries will serve as mentors and share their experiences to broaden participants' STEM career aspirations. After participating in an Ujima GIRL Camp, campers will have support to organize Ujima GIRL Clubs in their schools to inspire peers and girls in feeder elementary schools, further expanding peer-mentoring and STEM engagement. Campers will have access to C-STEM math and CS/STEAM curriculum with coding and robotics to be able to excel in math and CS/STEAM subjects academically as shown in C-STEM success stories. Ujima GIRL/GIRL+ Camps create a self-sustaining mentoring pipeline and community, as camp participants can return as counselors and mentors. The project is a three-year collaborative effort between the UC Davis C-STEM Center, the Umoja Community Education Foundation, and its affiliated California community colleges, industry partners, and county offices of education and school districts in California with a large number of Black students.
Each Ujima site will host one GIRL Camp (20 middle school girls) and one Ujima GIRL+ Camp (20 high school girls). Each Ujima GIRL/GIRL+ Camp will have two Black female college student mentors ("Coaches"), and the middle school camp will have two high school mentors ("Assistant Coaches"). Over three years, 960 Black middle school girls (GIRL Campers), 960 Black high school girls (GIRL+ Campers), up to 96 Black high school girls (Assistant Coaches), and up to 196 Black community college and university students (Coaches) will participate in the Ujima camps.
C-STEM is a UC Approved Educational Preparation Program for Undergraduate Admission for both K-12 and Community College students to all UC campuses. Participation in the C-STEM program, extracurricular activities such as Ujima  GIRL/GIRL+ Project, and C-STEM student individual awards including Girl's  Leadership Award are recognized in the UC admissions process as achievements that have explicitly prepared students for college and career. Undergraduate applicants in UC online application can select C-STEM as a UC Approved Educational Preparation Program.
The Ujima GIRL/GIRL+ curriculum will be implemented using a research-based culturally-relevant multi-tiered mentoring approach. The curriculum is designed to develop participants' STEM content knowledge, critical thinking, and logical reasoning capabilities through meaningful connections to real-life applications using hands-on coding and robotics. We will conduct a mixed-method longitudinal study of Ujima's impact on participants' STEM outcomes, with an emphasis on contributing new knowledge on the viability of multi-tiered, culturally relevant mentoring for increasing equity.  Ujima will test a locally-based STEM learning model with camps hosted by various K-12 and college partners that is scalable across the state and country.
---
Founding Partners for the Project:
Umoja Community Education Foundation
Chief Executive Officers of the California Community Colleges
San Diego Mesa College
Solano County Office of Education
Redlands Unified School District
Hacienda La Puente Unified School District
Valley View Middle School, Mt. Diablo USD
---
Press Releases and News Articles:
8/20/2021, C-STEM Center receives $2.4M to introduce African American girls to engineering and robotics
Sponsors: