Ujima GIRL Advisory Board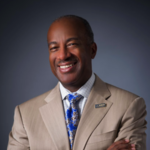 Dr. Gary S. May, Chancellor, UC Davis
Gary S. May became UC Davis' seventh chancellor on Aug. 1, 2017. He leads the most comprehensive campus in the University of California system, with four colleges and six professional schools that offer 104 undergraduate majors and 96 graduate and professional degrees. UC Davis enrolls about 37,000 students, brings in nearly $800 million annually in sponsored research and contributes at least $8 billion to the California economy each year.
An accomplished scholar and engineer, May came to UC Davis from the Georgia Institute of Technology in Atlanta, where he had been for nearly three decades, most recently as dean of the institute's College of Engineering — the largest and most diverse school of its kind in the nation.
Prior to being dean, May was the Steve W. Chaddick Chair of Georgia Tech's School of Electrical and Computer Engineering and, previous to that, he was the executive assistant to then-Georgia Tech President G. Wayne Clough.
May is known as a dynamic leader with a passion for helping others succeed. He believes success is best judged by how we enhance the lives of others. Throughout his career, he has championed diversity in both higher education and the workplace. He developed and led programs to attract, mentor and retain underrepresented women and ethnic minorities in the STEM fields of science, technology, engineering and math.
In 2015, President Obama honored him with the Presidential Award for Excellence in STEM Mentoring.
In February 2018, May was elected as a member of the National Academy of Engineering — one of the highest honors in the field — for his innovations in educational programs for underrepresented groups in engineering and his contributions to semiconductor manufacturing research.
May has won numerous other honors for his research in computer-aided manufacturing of integrated circuits and has authored more than 200 technical publications, contributed to 15 books and holds a patent in this topic.
In 2010, he was named "outstanding engineering alumnus" of UC Berkeley, where he earned his master's and Ph.D. degrees in electrical engineering and computer science.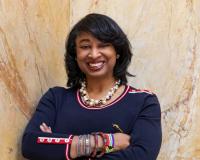 Dr. Renetta Garrison Tull
Vice Chancellor of Diversity, Equity and Inclusion, UC Davis
Dr. Renetta Garrison Tull is Vice Chancellor for Diversity, Equity, & Inclusion at the University of California, Davis. She previously served as Associate Vice Provost for Strategic Initiatives at the University of Maryland, Baltimore County (UMBC) and Professor of the Practice in UMBC's College of Engineering and IT (COEIT). She was the Founding Director and Co-PI for the 12-institution National Science Foundation University System of Maryland's (USM) PROMISE AGEP. Tull earned engineering and science degrees from Howard University and Northwestern University, was an Anna Julia Cooper Postdoctoral Fellow at the University of Wisconsin-Madison and has held faculty positions at the UW-Madison, and the University of Maryland College Park.
The UC Davis Office for Diversity, Equity, and Inclusion has a robust portfolio that includes diversity and inclusion education programming, campus climate, regional community relations, and academic diversity. The office spans both the Davis campus and UC Davis Health and is home to three research centers: the Center for the Advancement of Multicultural Perspectives on Science (CAMPOS), the Center for the Advancement of Multicultural Perspectives on Social Science, Arts, and the Humanities (CAMPSSAH), and the Center for Reducing Health Disparities (CRHD). The office supports UC Davis's Hispanic Serving Institutions initiative, Anchor Institutions Mission, Principles of Community, and employee resources groups.
An international speaker on global diversity in STEM, Dr. Tull has led discussions around the world on topics such as "Inclusive Engagement – Engineering for All," "Cultivating Inclusive Excellence within Science, Engineering, and Technology," work/life balance, family, and prevention of domestic and work-place abuse. Her recognitions include: O'Reilly Media "Women in Data" cover, Global Engineering Deans Council/Airbus Diversity Award Finalist, and ABET Claire L. Felbinger Award for Diversity.
Tull has been involved with projects for Puerto Rico's ADVANCE Hispanic Women in STEM, the Latin and Caribbean Consortium of Engineering Institutions, the National Academies of Science, Engineering, and Medicine, UNESCO and the Student Platform for Engineering Education Development Global Mentoring Award.
Dr. Tull has more than 50 publications, has given hundreds of presentations on various topics, and is a Tau Beta Pi "Eminent Engineer." She is a passionate advocate, global mentor, education policy strategist and champion for equity. She has served on consensus committees for mentoring and "Women in COVID -19 for the National Academics of Science, Engineering and Medicine.
Dr. Teresa W. Aldredge
Board President, Umoja Community Education Foundation
Dr. Teresa W. Aldredge is a founding member and current Board president of the Umoja Community Education Foundation, a nonprofit designed to support African American student success programs, with 57 affiliated California community colleges and universities that serve over 4,000 students annually.  Dr. Aldredge also serves as the Program Coordinator/Counselor for the Umoja Diop Scholars Program at Cosumnes River College in Sacramento, CA.
She has served in many leadership roles including Academic Senate President at Cosumnes River College, president of the California Counseling Association and president of the California Community College Counselors Association. She currently serves as Governor At-Large for the Faculty Association for California Community Colleges (FACCC) and was awarded the Full-Time Faculty of the Year award by FACCC.  She has also received the Exceptional Commitment Award from Cosumnes River College.
Dr. Aldredge earned an A.A. degree from Palomar College and a B.A degree in Psychology from the University of California, San Diego.  She completed a M.A. degree in Counselor Education from San Diego State University and a doctorate in Educational Leadership from the joint doctoral program between University of California, Davis and California State University, Fresno.  She has worked in the field of education for over thirty years.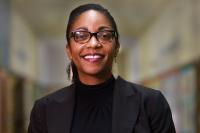 Dr. Kyla Johnson-Trammell,
Superintendent, Oakland Unified School District
Dr. Kyla Johnson-Trammell has led Oakland Unified School District (OUSD) as Superintendent since July 2017. OUSD is where she has spent most of her 22 years working in education, and it's where she received her own primary education.
Johnson-Trammell grew up in East Oakland and attended Montclair Elementary School and Montera Middle School. She attended a private high school in Marin County on scholarship, before heading to the University of Pennsylvania where her career in education began. She first considered a career in law, but then tried her hand as a student-teacher, and her future was sealed.
After graduating college and obtaining her teaching credential, Johnson-Trammell taught at Parker Elementary School in Oakland for five years, three of which she also served as a teacher coach. That led to her first job as an administrator, serving as an Assistant Principal at Oak Grove Middle School in the Mount Diablo Unified School District. She worked there for two years before returning to Oakland as Principal at Sequoia Elementary School. From there, she quickly rose through the ranks of District leadership as Administrator on Special Assignment coaching 40 school leaders, Associate Superintendent of Leadership, Curriculum and Instruction, Lead Network Superintendent and Interim Deputy Superintendent.
Johnson-Trammell's numerous awards and honors include being recognized as Outstanding Principal of Alameda County by the Beta Mu Chapter of Alpha Delta Kappa, an International Honorary Organization for Women Educators. She also received the Outstanding District Leadership Award. Johnson-Trammell served as keynote speaker at an American Educational Research Association (AERA) Conference on Urban District Reform and a panelist at a New Schools Summit on Common Core Standards.
Johnson-Trammell has a B.A. in Communications from the University of Pennsylvania, a teaching credential from California State University, Hayward, an administrative credential (M.A.) and her Ed.D in Educational Leadership from the University of California, Berkeley. She and her husband are raising two children who attend Oakland Schools.