GIRL+ Camp
C-STEM GIRL+ (Girls in Robotics Leadership+) Camps for Next Generation of Female Makers, Innovators, and Leaders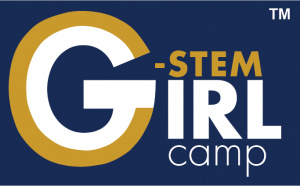 All GIRL+ Camps  in different regions are funded by various sponsors and attendance is FREE for camp participants. Camp participants are eligible for the Girl's Leadership Award.
The 1-week C-STEM GIRL+ Camps are focused on
Motivating high school students through peer mentoring by college students to learn leadership and STEM concepts through a fun and exciting physical computing with Arduino and robotics curriculum.
Inspiring next generation of female professionals and leaders in STEM fields. Provide a safe environment for campers to take risk, nurture their talent and instill in them confidence to pursue a STEM major in college.
Empowering campers to serve as leaders and inspire other students to gain interest in science and technology through creating robotics clubs on their respective school campuses, outreaching to elementary and middle schools, and participating in RoboPlay Competition.
Curriculum
The GIRL+ curriculum is focused on:

 

Sensor-Based Robotics with Arduino
Principles of Engineering
Programming in RoboBlocky and Ch/C/C++
Film Production
Women in IT

In addition, students learn important life skills including:

Teamwork skills
communication and presentation skills
Leadership skills
Building confidence
Breaking gender stereotypes
Camp Participants
Each camp will have 20 high school students entering 10th, 11th, or 12th grade in the coming Fall, who
have a strong academic record
exhibit strong leadership skills
have had exposure to computing or robotics or have a strong interest
can pick up new material quickly
Camp Coaches
Each camp has two Coaches. Each Coach will be compensated with $768 for the week and 1-day training. They should:
be in college
have experience with robotics, programming, Arduino, and video editing
work well with young girls
be willing to attend a 1-day on-line training session on a Saturday in late spring or early summer.
Camp Mentors
Each camp has a teacher or staff to serve as a mentor and coordinator. Mentor will be paid at the district standard rate for  the week.
Equipment
Each camp will use a set of  hardware Linkbot (16 Linkbot Bundle, 4 Linkbot Bundle, and a RoboTown Mat). All C-STEM schools and districts shall already have these robotics equipment.
Each camp shall have 20 Arduino Basic Kit.
Each camp will have computers at a 1:1 ratio for campers.
Use RoboBlocky  and Ch/C/C++ in Windows, MacOS, or Chromebook.
GIRL+ Camp in the News
8/3/2018 GIRL+ Camp Introduces High School Girls to Programming and Robotics
9/7/2018 Good Day Sacramento: Suds for Science Preview 
GIRL+ Camp Testimonials
"I've seen not only in myself but also in all of the other girls, their confidence grew so much as they're learning about this code. It's great to see these people change in front of you over the course of one short week."
"It definitely made me think about how I really wanted to do this [STEM] and that it wasn't just a random idea that I get."
"Thank you for giving me the opportunity to participate in this awesome program! I'll never forget this experience, especially that one key piece of advice to simply go for it!"
"I really enjoyed this camp and I think it's a really important program for getting more girls interested in C STEM and robotics. Thank you for creating this camp!"
Interested in hosting a GIRL+ Camp for girls in your area?
If you are interested in hosting a GIRL+ Camp, please check out C-STEM GIRL Camp Affiliate Program and email us at girlcamp@c-stem.ucdavis.edu.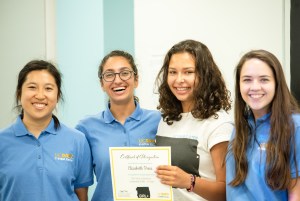 Fundraising
To sustain and expand the GIRL/GIRL+ Camp program, the Center seeks endowment funding and support from federal and state funding agencies, foundations, corporations, and individuals. If you are interested in making a contribution, seeking joint funding opportunities, or having any ideas for raising funds for GIRL/GIRL+, please contact us.
* While the purpose of the camps is to motivate girls to learn leadership and STEM concepts, all students, regardless of gender are welcome to apply.